Mostar
The city our hotel is located in
Our hotel is located in the beautiful city of Mostar. Mostar is a historic, touristic city located in the southwestern part of Bosnia-Herzegovina. The city is one of the most famous in the nation. Mostar is situated in a extraordinary photogenic valley. The city has approximately 90,000 inhabitants and is composed of two parts (west and east). The emerald beautiful and historic Neretva river flows through the city and divides it into two natural parts which are then connected by lots of bridges including the infamous, beautiful Old Bridge locally called "Stari Most".
Old Town and the Old Bridge
Mostar is best known for its almost 500 year old bridge called "Stari Most". This bridge was built during the Ottoman period, and is located in the old town (locally called "Stari Grad") which is the city's touristic and historical core. The entire old town is like a photogenic fairytale part of Mostar that is (under the circumstances) well preserved even today (after the 90's war).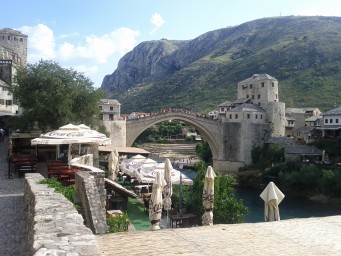 Construction of the Old Bridge
Initially opened in 1566 the bridge has served generations off traders, travelers etc to cross the fast and sometimes unforgiving Neretva river beneath the Old Bridge. The Old Bridge was constructed out of necessity. During winter times the Neretva river rises, an effect of more rain and snow in Bosnia.
Destruction/Reconstruction of the Old Bridge
In 1993 the entire world lost a part of it's heritage. Words cannot describe 427 years of perfect service lost for absolutely nothing. The service which was provided to Mostar and the region by the Old Bridge is monetarily invaluable and spans generations. Even though the initial Old Bridge was destroyed, technology enabled an joint venture of nations to reassemble the heart of Mostar to an high percentage of accuracy.
Gallery of Mostar